It has been a big headache for me to use mobile network in Japan for many years as a short time visitor. In many countries, it is relatively easy to purchase a prepaid SIM card but not in Japan. They are not available due to the security reasons, prevention of criminal usage. One of other options is to rent a SIM card, but again this is not a simple option either. It is actually illegal to use mobile phones without the regulatory approval stamp with local SIM cards. But it is legal to do international roaming using foreign SIM cards. What is the difference? None. You just fell into a crack of out dated regulations. The Japanese regulations simply can't keep up with technology advancement.
International roaming can solve some of my problems but it came with a hefty price tag both for myself and folks in Japan. For many years, my solution has been digital detoxing. No phone calls, texting, looking up things on Google, no Google Map navigation.
Recently, T-mobile started offering free international roaming text and unlimited data at speed of 2G. This is a fantastic news, so I decided to take advantage of this.
As soon as I landed in Japan, I turned on my phone — not literally but as soon as I was allowed to do so. I got a message from T mobile. See below.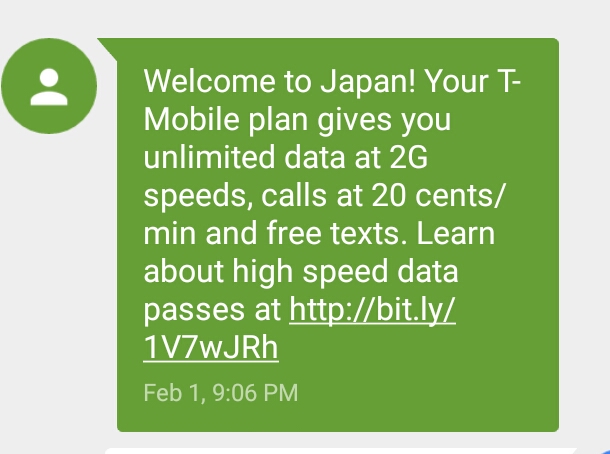 It looks like my phone automatically picked up SoftBank's 3G network. I could send text messages but I realized I can't use internet. Based on my previous experience with T Mobile network and a bit of research, the problem is my APS settings are not compatible with the network. I changed my APS settings based on the instructions found here; https://support.t-mobile.com/docs/DOC-16171. And worked all fine.
It is not the best speed you can get but it is enough to upload photos to SNS, send messages, Googling, and navigate myself around the town using Google Map. It is without any extra charge, I can't complain.